Haddock Heyday
Marine Fisheries promotes sustainable, rebuilt resource
Good News
In recent years we have rarely heard positive news about the status of groundfish stocks in New England. The iconic cod stocks of the Gulf of Maine and Georges Bank have declined; scientific projections of several species of flatfish have been pessimistic; and both commercial and recreational fisheries have faced large reductions in catch limits for most groundfish species. However, there is a completely rebuilt species now more abundant in our New England waters than it has been in nearly 40 years—haddock! The haddock success story didn't happen overnight, but with some luck and the diligent efforts of fisheries scientists and managers, including those at MarineFisheries, haddock is incredibly abundant and now an excellent choice and example of sustainable seafood consumption.
Year-Class Bonanzas
The unprecedented 1963 year class likely kept the Georges Bank haddock stock from total collapse during the increased fishing ef­fort era of the 1970s; however, it presented a scientific challenge in determining the cause for such a large recruitment event that didn't happen again until 40 years later. The 2003 year class was nearly double the size of the 1963 year class, and questions about what caused these massive recruitment events still remained. Fortunate­ly, less than a decade later, in 2010, another enormous year class was observed on Georges Bank, only to be surpassed by the largest year class ever observed in 2013. Similarly, the Gulf of Maine had­dock stock had historic huge recruitment events in 2012 and 2013, and both stocks were declared rebuilt in 2008.
KAYMAN CHARTERS NEWS
 Haddock Fishing Starts on April 15 this year!
The Lisa&Jake will be ready to take the first group out on Saturday April 15. Captain Kevin and Mate Jeff will have all the new Shimano reels lubed and new hooks sharpened for the opener!
Last year after a mild winter Haddock were abundant in 100 ft. of water, we will check to see if they will make a repeat visit!
Early Spring Haddock run
Kayman Charters announces a new trip
Marathon Shared Charter!
  After several requests for a longer day with more fishing time, there will be a new type of trip for all our shared clients
  Our Shared customer list is growing every year.The ease of booking a secured spot without repeated phone calls makes it convenient to plan your trip.
  When you book a shared charter with Kayman Charters you can rest assure you will get out fishing even if there is only a couple of clients!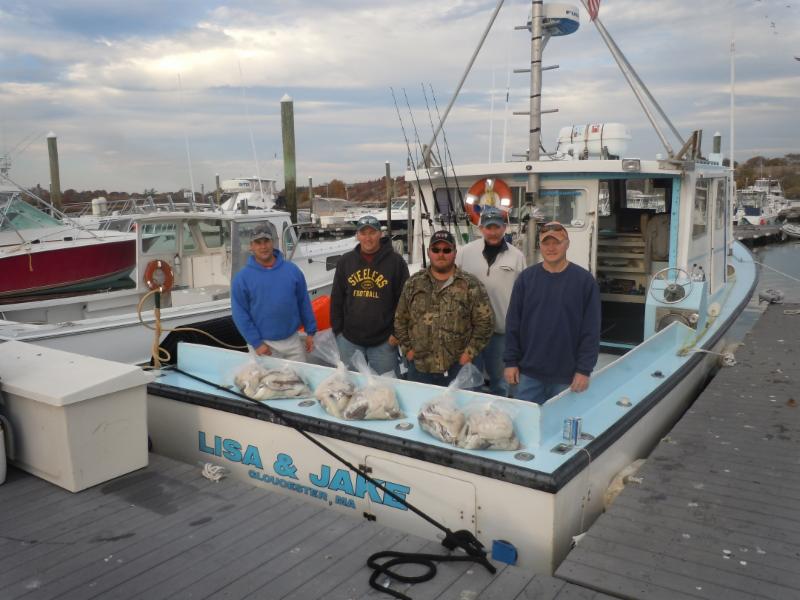 Shared Charter group returns with their catch
Click here for the  Shared Charter page
As always Kayman Charters will be offering
Shared Charters
 these dates that we offer shared trips are posted on the '
Shared Charter
" page of the web site.
It is now easier than ever to sign up for a trip from the shared charter page simply click on the date you would like, sign up and get an instant confirmation!
 
Tip, The earlier you sign up for the trip more people will see spots are filling in and sign up, In the last two years there has only been 2 times out of 63 that the boat did not go because of lack of fisherman!
Always check our Facebook page for last minute specials
Click here for the Shared Charter page to check seating and to sign up for these dates
| | |
| --- | --- |
| April 16  | Easter Haddock Fishing |
|  April 20 |  Thursday Haddock Fishing |
|  April 28 | Friday Marathon Ground Fishing Special |
|  May 4 |   Thursday Haddock fishing |
|  May 8 |  Monday Haddock Fishing |
| May 13 | Saturday Marathon Haddock Fishing |
|  May 14 |  Sunday Haddock Fishing |
|  May 19 |  Friday Haddock Fishing |
|  May 24 |  Wednesday Marathon Haddock Fishing |
| June 2 | Friday Haddock Fishing |
| June 6 | Tuesday Ground Fishing |
|  June 17 | Saturday Marathon Ground Fishing |
| July 3 | Monday Haddock Fishing |
| July 6 | Thursday Haddock Fishing |
In order to stay tuned in to the types of fishing and their migration patterns, Kayman Charters is dividing up the seasons.

Ground fish season will begin April 15 and run until Sept 14

After that we swap out the gear on the boat and go Tuna fishing until the season closes.

If it closes early like last year we will target the Giant Pollock of outside Jeffreys wrecks in November!

Targeting the same fish everyday has a great advantage, It is what makes a good fisherman stay tuned in!

Last year after being tuned in we had folks catch two giant Bluefin in one day!
One of the two Tuna caught by this fine group!
The end of the season was all Tuna fishing for the customers and the crew. As the Haddock trips slowed up we switched gears and only went Tuna fishing.
Being on the grounds and knowing the patterns of the bait and fish definitely  gives us a good advantage over others. We had a handful of clients who wanted to try Tuna fishing. One group ended up with two giant Bluefin on the deck in a few hours. A few groups got one fish and some groups caught small 100 pound fish that we let go but did keep a couple for the grill when legal.
The Tuna season ended on the second week of November this year because the quota was caught! This was the first year in over 15 that the quota was actually caught. The good new is other nations were trying to get our quota because we were not catching it, so now there should be no problem with loosing any and possibly  get more quota for next year.
Next season will begin April 15 for Haddock, The Lisa & Jake will fish for ground fish until September when we swap over to Tuna fishing.
Lisa's Lookout will be closed for renovations this upcoming season so please make plans early to get reservations at area hotels.
Thank you to all and Merry Christmas!
First Cod fishing for two  years yields nice white  bellied cod to 15 pounds
Large bull summer Haddock are  in full force giving anglers  a great fight and nice sized  take home bags of filets
The Joe Poole group was  slamming the haddock Saturday  when the visit of the local  blue shark showed up
These sport sharks are caught  a released for another day
Well Saturday when the line  was deployed it screamed out  of my hand and a large tuna  was hooked
These folks fought the tuna  for two hours and many times  was close to the boat until  the line broke with  disappointment
I estimated the fish was well  over 600/pounds
A great effort on a stand up  shark rod
Kayman charters has openings in August for all types of trips see kaymancharters.com for info and reservations
Another week of great fishing charters from Gloucester on the Lisa&Jake! Groups were into Large Summer Haddock, these fish are healthy and built like bulls! Summer always brings in the larger Haddock as the spawn has been done early spring and the fish are all bulked up
Some medium and large Pollock have added to the  mix as well as a good number of large Cusk as well.
The Charles Christie group who has been a Kayman Client scince 2006 went home with 162 keeper fish!
These great guys semi annual trip gave them challenging conditions with high winds and current but pooled together to make a successful trip
See Kaymancharters .com for available private and shared charters
Gloucester fishing remains very strong on Kayman Charters! New schools of large Haddock have moved in yesterday to add to the great Haddock fishing we are already having! Haddock to 28 inches and many in the 24-27in class are filling the gravel bottoms outside Stellwagon Bank. Large Pollock have also caught anglers by surprise as they are looking for the Haddock bite,along with some Cusk. These fish will light up the drag and bend the rod to the gunwale!
Last week a 70 pound Porbeagle shark spiced up the action to make for a bushel of tasty steaks for the grill. If you like to catch a ton of fish, this is the time of year to make plans for an outing with Family and friends, the average wait time for the next fish is 5-10 seconds on the bottom! Any more than that you have lost your bait! This is how incredible the fishing has been, folks can't believe it until they experience it themselves! See Kaymancharters.com or call for private or Shared Charters
Fishing from Gloucester on charter boat Lisa&Jake has been hot! The Haddock have been on the move out of the shoal water last week. Large Cod have moved in and taken over. We did some searching to find another group or two of Large Haddock to the east. A little longer ride was producing great results as groups filled fish totes with nice Haddock, Pollock and Cusk!
A stop to a near by wreck one day scored some of the largest Red fish in Gloucester waters, doubles of nice Reds to 16 inched were brought to the table!
Summer fishing is coming soon book your trips in advance for best dates
The Haddock fishing this week ended up great as schools of large fish moved in to the Gloucester coastal waters. Groups have been catching limits of Haddock with a lot of action on all types of fish. Fishing so far this year has been in the shallower water making for a lot of fish coming over the gunwale quickly keeping the crew very busy.
We don't know who has been more tired at the end of the day , the clients or the crew!
The fishing has been like the old days when non stop action was so fast sandwiches were eaten at the rail!
A few shared trips in June have openings June 2 and 5 have a spot or two for those looking to get in on the action. Go to
kaymancharters.com
for instant reservations.
The weather held off enough to get out with a couple of groups over the week end. Haddock were everywhere! the groups must have caught 400 haddock to get enough legal size ones to make up their 120 fish boat limit. There are so many year classes of Haddock out there from herring sized Haddock to 25 inch Haddock. This is a great sign for the future of the fishery the big 2010 year class is all legal size fish now so there are plenty of them.
Haddock trips are filling fast Next Shared trip is June 2 go to
kaymancharters.com
to sign up today
The Haddock fishing report from f/v Lisa&Jake Gloucester Ma is reporting a ton of fish! The folks from Ct made the first trip out to Jeffries ledge via Tillies. The reports are anglers were lock and load! The action was non stop, lot of smaller fish in the mix so you really had to adjust the bait and weed through the Cod and the short Haddock to get the bag limits. A few Pollock came to gaff as well as a Cusk or two.
A new Shared Charter has opened up! MAY 16 has 3 open spots!