My crew and I went out of Gloucester MA for an 9 hour cod trip on the Kayman Too. We had previously gone out of Wells ME, and with another boat out of Gloucester, with mixed results. And for the last 2 yrs, we had been blown off, and not gotten out at all. It did'nt look good at first, with a 15 to 20 knot wind out of the east. We headed out of the harbor at 5 am, with no coffee or breakfast due to an alarm malfunction! It was a very rough ride out, taking a little over 2 hours, pounding head on into 6-8 ft seas. Half the crew was pretty queasy at this point. That all changed as soon as we reached the fishing grounds on Stellwagon Bank. Captain Rob swung the boat around to set up the first drift, and told us to drop. Within 30 seconds of hitting the bottom with our jigs, all 6 of us hooked up! That was the start of a fantastic day of ground fishing. We were smack on the cod and pollock all morning long. And , a treat for anyone who has ever jigged for
cod
, we were only in about 100 fow! The boat was set up with topnotch equipment, hi-speed diawa reels loaded with 80 lb test firewire braid. It was very easy to feel the bottom, and the bites using this setup. We filled our first 30 gallon tote with fish in about 20 minutes on that first drift. The action was steady after that, with shorter drifts due to the speed the wind was pushing the boat. But the captain did a great job positioning us, keeping the fish coming. The cod were plentiful, though average size, maybe 10 to 17 or 18 lbs. The pollock too bit all day, from 5 lbers to a couple of 3 ft long 15 lbers. And, as an added treat, we caught and released 3
stripers
, 2 that were around 20 to 25 lbs, and a monster 4 foot long fish that the captain estimated at +40lbs! I had never heard of catching stripers while jigging for cod before, but seeing is believing! All in all, we filled about 5 1/2 totes with fish, and since I did'nt have anything better to do on the ride back in, I counted them up as Rob filleted. We ended up with 42 cod, and 31 pollock, and each of the 6 of us brought home a 25-30 lb bag of fillets!
If any of you forum members are interested in chartering a trip for groundfish, feel free to pm me for more info, and check out the Kayman Charters website. This was by far the best trip we have taken , in 15 years our crew has been going out. Captain Rob was a joy to fish with, and even more impressive that he did it solo, with no mate on board!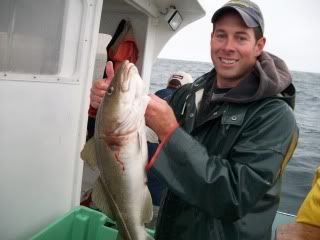 Captain Rob with one of the many nice cod we caught
This was the result of our first drift!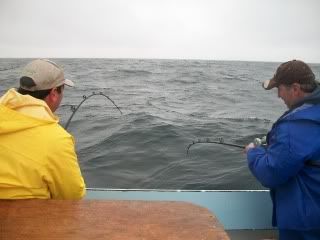 Nelson and Tommy both hooked up
Gerry brought in this 10lb cod, and 20+ lb striper at the same time!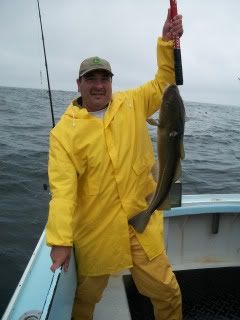 Nelson with a nice Cod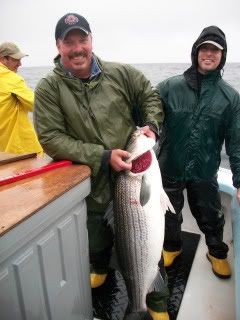 He then caught and released this monster striper, estimated at over 40lbs!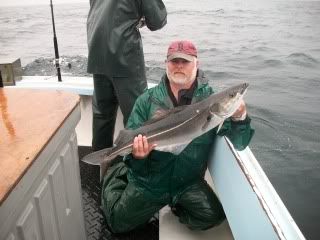 Me with the big pollock of the day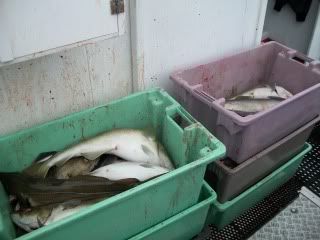 The final results of a great day! Before………
And After!